Range of Widths
Most New Balance styles are offered in a large range of widths. This is one of the many reasons that New Balance is such a popular brand. Widths 2A-4E are offered for women, while widths from 2A-6E are offered for men. This selection of widths makes it possible for nearly every size of foot to find a comfortable and secure-fitting New Balance shoe. Learn more about widths here: Shoe Size Guide
Foot Issues
New Balance caters to individuals with health and foot problems. Whether you're affected by diabetes, edema, plantar fasciitis, pronation, or supponation, there is a New Balance style that will help to alleviate your discomfort. Patented technology, like the Rollbar®, helps to stabilize the rear part of your foot. Other important features of New Balance shoes include Abzorb® Cushioning, wide toe boxes, and various lasts.
Made in U.S.A.
The New Balance 990 continues to be a fan-favorite because it's made in the United States of America. This classic style features pigskin & suede uppers and ENCAP® midsole technology. New Balance has proudly manufactured the 990 in the USA for over 75 years.
Versions Explained
The "v" behind the model of each New Balance style represents the version of that particular item. With every new verison that New Balance produces, you can expect improved technology and a better fit. New Balance takes feedback very seriously and considers each customer response when designing a new model.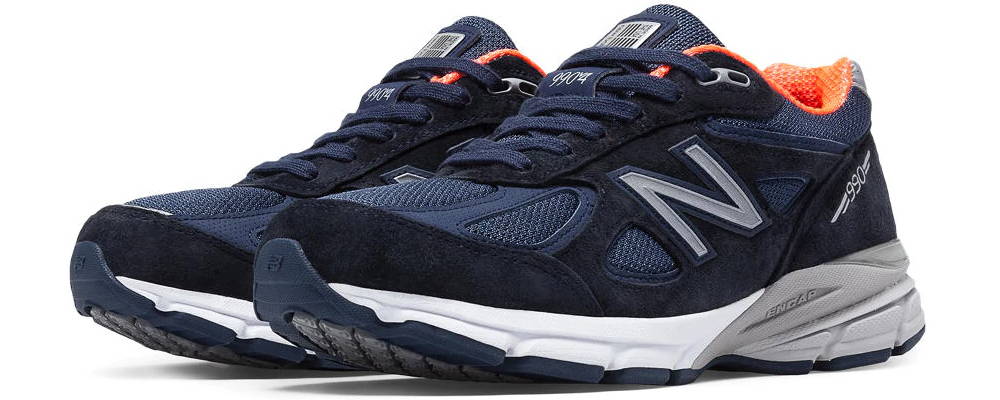 A Shoe For Every Activity
No matter what activity you're performing, New Balance makes a style that is fit for the occasion. New Balance offers shoes for the following acitivites: Running, lifestyle, cross-training, walking, baseball, skateboarding, hiking & trail, boots, soccer, tennis, golf, lacrosse, work & safety, sandals, and more. You're bound to find a New Balance style that suits you and your lifestyle!